Basing House: Civil War 'siege trenches' found by survey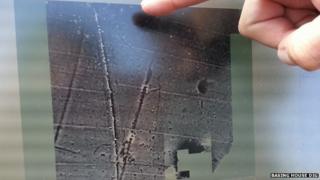 Possible evidence of an English Civil War siege has emerged following a survey of the Hampshire countryside.
Geophysical studies of Basingstoke Common show what experts think could be a trench system used by Parliamentary forces attacking nearby Basing House.
Experts from York and Southampton universities have been leading an excavation of the site of the Royalist family house destroyed in 1645.
Dig director Chris Elmer said the study showed "interesting signals".
The 360-room Basing House, built in 1535, was regarded as one of Tudor England's finest.
Owner John Paulet sided with the Royalists during the English Civil War. The house was the site of one of the longest sieges of the conflict, finally being breached by Oliver Cromwell's forces in October 1645.
The archaeology team used magnetometers to analyse the ground, creating an "X-ray" picture of underground disturbance and buried features.
'Extensive network'
As well a post-civil-war track, faint lines and semi-circles also showed up, which Mr Elmer said left them "pretty convinced" were ditches which could be a trench warfare system.
"The geophysics has really built up a picture of quite an extensive network of trenches used by Parliamentary forces as they steadily encroached towards the house," he said.
The discovery reflects historical paintings of the siege, but this was the first time a geophysical study had shown the presence of ditches.
Students and local volunteers have also been unearthing part of the Royalist house, nearby.
It was destroyed after the siege, with local people "mining" the remains for building materials in subsequent decades.
Mr Elmer said the three-week excavation revealed dumps of bricks and tiles which showed the house had been "methodically and calmly destroyed" after the initial plundering.
He also believes there could be a more evidence of the major Parliamentarian encampment to be revealed.
"There are some interesting signals which certainly warrant further investigation," he said.