Portsmouth runner starts water fountain campaign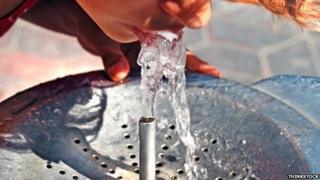 A Portsmouth runner has launched a campaign for free water fountains around the city.
Claire Baker says installing fountains in recreational areas will help the environment, as people will be able to access tap water rather than buying bottles.
She has now launched a petition which Portsmouth City Council has made available for signing on its website.
A council spokeswoman said they "could be a welcome addition" to the city.
Ms Baker said she came up with the idea while running in Portsmouth, before researching schemes in Bristol and American cities.
She said: "I looked into it and found there were campaigns globally about putting in water fountains and getting cities using more tap water, like the London on Tap campaign.
"I know a lot of runners, cyclists and people who go to the seafront who are interested, but I wanted to know how many other people out there there are."
'Benefits'
While the council welcomed the idea, it said cost factors would have to be taken into account.
A council spokeswoman said: "Public drinking fountains could be a welcome addition to areas of the city such as parks and the seafront.
"There would be benefits for the well-being of residents and visitors but we would have to weigh this up against the cost of installing fountains and maintaining them to the required standards."
However, Ms Baker said she believed her proposal was relatively low cost.
She said: "Water fountains cost about £300, with a couple of hours plumbing to put in.
"So I understand there are priorities when they are spending money, but I think it would be a good addition to our seafront."