Portsmouth shipbuilding consortium withdraws bid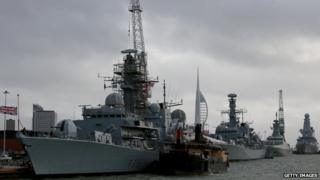 A group that hoped to run dockyards in Portsmouth has said its bid is "no longer viable".
The Portsmouth Shipbuilding consortium said: "The workforce has sadly been disbanded and the facility stripped."
In November last year, BAE announced shipbuilding would cease altogether in the city, with the loss of about 900 jobs.
Expressions of interest for the site are currently being submitted to the Ministry of Defence.
Portsmouth Shipbuilding is a consortium, including Stanton Burdett Ltd, a marine and defence consultancy, with Sarah Stanton, former executive project manager for Aircraft Carrier Alliance, as project director.
The group proposed to run a "sustainable shipbuilding company to deliver small and medium commercial/naval vessels for the domestic and export markets".
'Skills and expertise'
On Facebook it wrote: "We wish all those involved in shipbuilding and supporters the very best for the future and hope that David Cameron remembers the pledge he made on 20 January to keep shipbuilding in the city."
BAE has moved the building of Royal Navy ships to Govan and Scotstoun yards in Glasgow.
Penny Mordaunt, Conservative MP for Portsmouth North, said: "There are eight companies who are keen to use the shipyard and although Stanton Burdett isn't one of them, I hope it might benefit from a future order book for the yard.
"Stanton Burdett's interest at an early stage was extremely helpful and they clearly have skills and expertise the future shipyard could use."
The Ministry of Defence declined to comment as the bidding process is still ongoing.