Hampshire man's 1,100-mile Magna Carta bike ride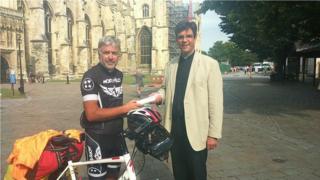 A cyclist has completed a 1,100-mile journey which connects cathedrals, churches, towns and villages associated with the sealing of Magna Carta.
Steve Brown set off from All Saints Church in Odiham three weeks ago to present manuscripts of a Magna Carta-themed anthem commissioned by Odiham.
The anthem scripts have been presented to the churches and cathedrals.
King John left Odiham Castle, in Hampshire, when he set off to seal the Magna Carta.
Mr Brown said: "I would describe it as a pilgrimage.
"I've tried to avoid the A and B roads and have seen what's beautiful about Great Britain and had time for reflection and thinking.
"It's been a challenge because it's a long way, but it's also been an adventure because of the people I've met, and the experiences I've had along way the way have been a real pleasure."
The anthem was composed by Malcolm Archer and it is hoped cathedrals and churches will play it next year during the 800th anniversary of the Magna Carta.
Mr Brown took with him around 20 manuscripts and cycled up to 95 miles a day.
His journey has taken him around the country on a route which included Winchester, Durham, Lincoln and Canterbury.
He has also raised funds from the journey, which will go towards the maintenance of All Saints Church.