Calmore fire death victim Brent Mason 'immobile'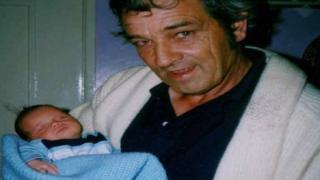 A man who died in a house fire was unable to move unaided after health problems had robbed him of his independence, his wife has said.
Brent Mason, 66, died in the blaze at Yew Tree Cottages, The Drove, in the Calmore area of Totton, on Tuesday.
His wife Liz said he suffered a subarachnoid bleed to his brain seven years ago followed by several strokes.
Hampshire Fire Service said a number of potential causes had been identified but the investigation was ongoing.
Police said they were no longer treating the fire as deliberate and were preparing a file for the coroner.
Mrs Mason said she had lived in the house with her husband for 47 years.
"We brought our three children up here, and over the years have proudly welcomed grandchildren and then great grandchildren in to what we have always considered a proper family home," she said.
"We are in disbelief as to what has happened, and we are struggling to come to terms with how quickly events unfolded.
"The fire has completely gutted my home. We have lost everything we own, everything we have worked our whole lives for. We are now homeless."
Mrs Mason said her husband's decline in health had left him unable to move without a hoist or someone to support his weight.
Mrs Mason was treated in hospital for the effects of breathing in smoke. Five other family members escaped.