Isle of Wight's Totland sea wall repair plan criticised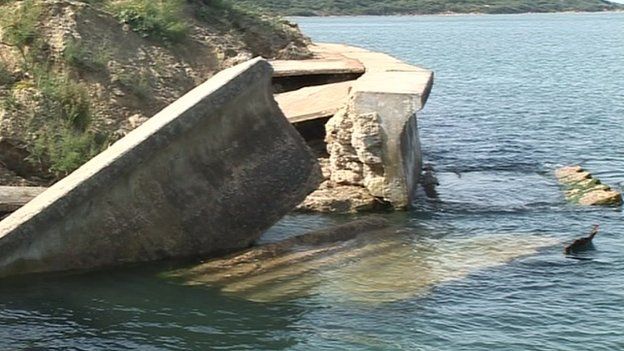 Campaigners have reacted angrily to a "make-do-and-mend" option to repair a sea wall on the Isle of Wight damaged by a landslide in 2012.
Rebuilding Totland's concrete promenade was initially calculated at £2.1m, but the council is set to approve a £200,000 temporary repair.
The Isle of Wight Ramblers said tourism was being damaged by the public right of way remaining closed.
The council said a full rebuild was "out of reach financially".
The concrete sea wall linking Totland and Colwell collapsed and broke up in December 2012 after heavy rain triggered a landslip.
Last year the government approved the public footpath remaining closed until July 2015.
David Howarth, of Isle of Wight Ramblers, said the path was a "massive amenity" for tourists and residents.
"Now is the time to get this job done, but we've seen procrastination at council meetings," he said.
He added the organisation would consider "legal options" if the public right-of-way was not reopened next year.
Cafe owner Gary Sheath said business had been "a lot quieter" since the closure.
"We used to get a lot of walkers along the coastal path, now they take a different route," he said.
Councillor Phil Jordan said the local authority had the "wider consideration" of other infrastructure repair following recent harsh winters.
"The underlying problem is we don't have the capital - the temporary make-do-and mend repair is an option as the original £2.1m is out of reach financially.
"[The path] is important for tourism and commerce, and yes, it will be sufficient for what we need."
Repair plans will be discussed by the independent-controlled council in September.
Related Internet Links
The BBC is not responsible for the content of external sites.