Isle of Wight children's services improve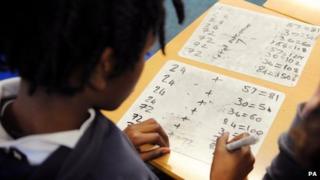 Children's services on the Isle of Wight that had been ranked "inadequate" in 2013 have been judged as "effective" in the latest round of inspections.
In June last year, Ofsted said outcomes for children were "too low", prompting the government to order a partnership with Hampshire County Council.
The watchdog said Isle of Wight Council had successfully tackled the areas for improvement listed in the 2013 report.
But, work was needed to improve school attendance and evaluate performance.
The council said its predicted school results for 11 and 16-year-olds in 2014 were moving closer to the national averages for 2013, and the proportion of primary schools judged as good by Ofsted was now in line with the national average.
'Drive forward'
In June this year, attendance at primary schools was 96%, up from 94.9% in the same month last year, while attendance at secondary schools rose from 92.5% to 94%.
Lead member for children's services Richard Priest said: "We have made significant progress over the last 12 months and I would like to thank head teachers, teaching and support staff, pupils, parents and governors, as well as officers, for their hard work and continued support as we drive forward the school improvement programme.
"Raising standards in schools is a priority for the administration and thanks to strong leadership on both sides of the Solent we have been able to make swift progress in turning our educational standards around.
"It has not been an easy journey and there is clearly more work to do, but it is a real boost for everyone involved to receive such an overwhelmingly positive report from Ofsted."
Isle of Wight has 51 state-maintained schools.