Immigration Street TV crew egged in Southampton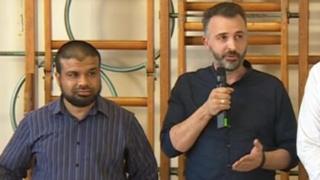 A TV crew filming Channel 4's new Immigration Street show in Southampton have been pelted with eggs and flour.
Residents said the Love Productions team had been filming outside a shop in Derby Road when a group of youths targeted them on Tuesday evening.
Hampshire police confirmed they were investigating a public order incident involving a TV production crew.
Love Productions, which is filming the follow-up to Benefits Street for Channel 4, declined to comment.
Pat O'Dell, from Newtown Residents' Association (NRA), said: "Love Productions were filming outside a shop when some young boys recognised them.
"Word has been spreading about the filming so they knew what was going on. They got some eggs and started throwing them at the crew who then ran off.
"There's anger in the community because people don't want the show to cause any friction."
Nazrul Chaudhery, chair of NRA, said people in the road had grown more wary of taking part and some were looking into their legal position after signing disclaimers.
A Channel 4 spokeswoman said: "We intend to continue to film with residents who are very happy to share their experience of living on Derby Road.
"We would urge anyone who has concerns about their participation to discuss these with the production team."
Channel 4 said the programme would follow the lives of people in the "ethnically diverse street where the majority of residents were not born in the UK".
Benefits Street, which featured people living on a Birmingham street, proved a ratings winner but was criticised for its portrayal of people living in poverty.