Wallaby spotted in Kingsclere gardens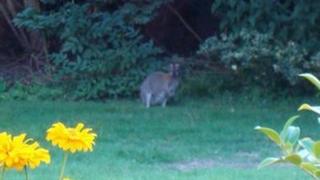 An animal normally associated with Australian forests has been spotted in Hampshire gardens.
Police received calls from Kingsclere about a wallaby on the loose.
There have been five reported sightings so far.
Police were investigating but the RSPCA said there were established groups of wallabies in the wild so unless the animal was in distress there was no cause for concern.
Calie Rydings, of the RSPCA, said: "What people might not be aware of is that wallabies are established in the wild in Britain. There have been established populations in this country since the 1940s. There is no need to be alarmed."
An alpaca was on the loose in the same area earlier, but police said they believed they had found its owner.
---
Why are there wallabies in the UK?
There are large groups in Scotland, the Isle of Man and Bedfordshire.
Groups of wallabies became established in this country after some escaped from Whipsnade Zoo in Bedfordshire in the 1940s.
The wallabies in Scotland live on Inchconnachan, an island in Loch Lomond. Lady Arran Colquhoun introduced them in the 1920s.
---