Princess Royal visits Isle of Wight for centenary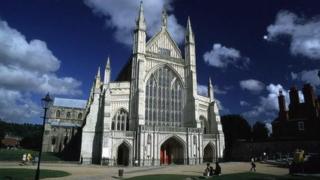 The Princess Royal visited a war memorial on the Isle of Wight to mark the start of World War One.
Princess Anne was at the vigil at the chapel at Carisbrooke Castle at 23:00 BST, which coincided with the declaration of war 100 years ago.
Lights were turned off at Winchester Cathedral, at Southampton's cenotaph and street lights across Hampshire were dimmed.
A memorial to the "Pompey Pals" was also unveiled in Portsmouth.
The 14th and 15th (Portsmouth) Battalions Hampshire Regiment were commemorated with a memorial at Fratton Park, which has been built with support from Portsmouth Football Club.
'Lamps going out'
Across the UK, people were encouraged to turn out their lights and leave a single candle burning to echo Sir Edward Grey, foreign secretary in 1914, who said on the eve of war: "The lamps are going out all over Europe, we shall not see them lit again in our lifetime."
A vigil at Winchester Cathedral was held at 22:00 BST and candles were extinguished.
Lights went off at the Southampton Cenotaph, at civic buildings in Fareham, and street lighting across Hampshire was dimmed at the same time.
An 18lb field gun was on display at Winchester Castle along with a fully-restored Thornycroft J Type lorry and uniform from the period.
While 100 homing pigeons were released outside the Chantry Centre, Andover, to mark the importance of communications during World War One.
In West Street, Fareham, a commemoration stone was unveiled as doves were released as part of a programme of events during the day in the town.