Sheltered housing alarms to go in Hampshire County Council cuts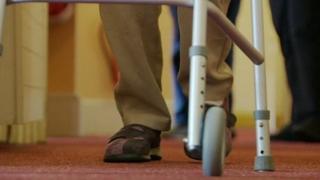 A sheltered housing alarm service will be switched off under budget cuts, Hampshire County Council has confirmed.
The pull cord alarm used in emergencies by elderly, disabled or vulnerable residents, will end in September.
The Conservative-run council said it was part of plans to reduce its Supporting People budget by £7.6m by 31 March 2016.
Opposition councillors and unions said ending the alarm system could increase costs in the long term.
The council said the full-year cost for the alarms was £529,200.
About 50 contracts offering the service will end on 30 September.
The service covers residents in sheltered housing in Basingstoke and Deane, East Hampshire, Havant, Eastleigh, Fareham, Gosport, Hart, Rushmoor, Test Valley, Winchester and the New Forest.
Cllr Liz Fairhurst said: "We know how much people value these services and it's always difficult to make changes to provision, but we are facing significant budget pressures which mean we can no longer sustain the current level of funding."
The council said people currently using the alarm service would be assessed for social care support or offered a self-funded option.
'Most vulnerable'
Liberal Democrat councillor David Harrison said: "If someone falls over and they are on the floor for four or five hours for want of an alarm, that's likely to be a bigger burden on the NHS and the county council and a lot of human misery which could be avoided."
Trade unions said the cuts were "unnecessary".
Tim Cutter of Unison said: "There is £419m in council reserves - those reserves should be used to help the most vulnerable."
Residents of the Alma House in Aldershot, one of the homes using the alarm system, previously said losing it would have a "big effect".
Other changes include the development of a new community-based support service and help for people to access services provided by the voluntary and community sector.
The council said it had to make £43m in savings overall in adult services by the end of 2015/16.