Loch Ness monster-shaped pedalo tackles Scottish waters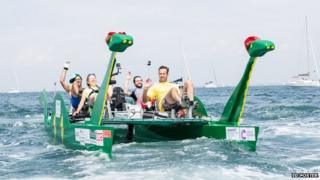 A monster-shaped pedalo built in Southampton is due to navigate the coast of Scotland.
Four friends are hoping to raise more than £250,000 for charity through a three-week trip.
Ed Foster, Nico and Natasha Kirby and Sholto Morgan will attempt to pedal 500 miles (800 km) around northern Scotland.
They commissioned ship science engineering students at the University of Southampton to build the vessel.
Charity mission
Mr Foster and his team will sit on reclining bicycle seats to operate the six metre-long (20 ft), bright green, carbon fibre craft.
It took a team of six masters students seven months to build the pedalo as part of a group project.
The hull is a modified Hurricane sailing dinghy and can travel at three knots.
They tested the craft on the waters around the Isle of Wight.
The team, aged between 28 and 30 and from London, Fife and Aberdeen, are aiming to raise £250,000 for Cancer Research UK and Parkinson's UK and have already reached £60,000.
The journalist, banker, lawyer and actor were inspired to take on the challenge by family members affected by illness.
Ms Kirby said: "What we are doing is completely mad and has never been done before. But that's part of the thrill of something like this."
They are due to leave Inverness at 09:30 BST on Saturday and the route will take them down the Caledonian Canal, through Loch Ness and Loch Lochy and out into the Irish Sea.
After this will go north to Cape Wrath, east to Thurso and past John O'Groats.
They are hoping to reach Inverness by Monday 25 August.