Pitt residents angry over new homes plan for Winchester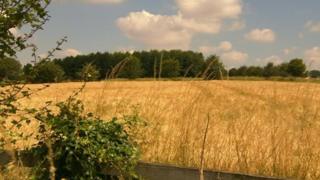 Residents in a village near Winchester have opposed fresh plans for 500 new homes in fields near their homes.
A separate development of 200 new homes is already being built in Pitt and the parish council believes another 500 would swamp the community.
Developer Linden Homes says the homes are needed to meet demand.
Of 12,500 new homes planned for the wider Winchester district area, 4,000 are designated for the Winchester City Council area, which includes Pitt.
The local MP and many residents have opposed the plans, including Gavin Bowyer, who says: "It's going to overwhelm the infrastructure that we've got here.
"It's a busy road anyway and access on to that is going to be very difficult.
"It's not that it's going to be in our backyard - essentially we will be the backyard to 500 new houses."
'Addressing shortfall'
The city council says the proposed development is against its planning policies and it strongly discourages any application.
Parish councillor Eleanor Bell says: "It's outside of Winchester and it's outside of the city boundaries and it's in contravention of the local plan.
Steve Brine, MP for Winchester, agrees, saying the area had not been earmarked for development so should not have any more homes built on it.
In a statement, Linden Homes said: "We understand the concerns that have been expressed, and over the coming weeks we will be undertaking further technical work - particularly on the landscape and visual impact, highways and drainage.
"It is our view... that the council is unable to meet its five-year supply of housing, as required by the National Planning Policy Framework.
"We have taken the decision to progress an application to help the council address its shortfall."
It plans to carry out a second consultation this year.