Mystery poem found in World War One kilt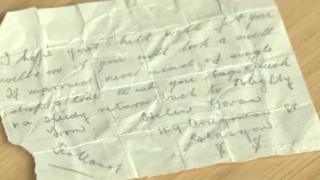 A hidden poem from a Glasgow woman has been found sewn into the folds of a World War One kilt owned by a Southampton academic.
Dr Helen Paul discovered the hand-written message when she was removing the packing stitches from the kilt, which has been passed down her family.
The note is a poem with lines including: "If married never mind, if single drop a line".
It is signed by Helen Govan, of 49 Ardgowan Street in Glasgow.
Dr Paul said: "It would be fantastic to trace who this lady was and learn more about her history."
The London Scottish Regiment kilt was manufactured by Peter Wilson of Bridge Street in Glasgow.
It was destined for a soldier heading to the front during WW1 but for unknown reasons it was never unpacked or worn.
Dr Paul, an economics historian at the University of Southampton, said: "This garment has been in our family for a number of decades and until recently we were completely unaware there was such an intriguing secret hidden in its folds.
"It was a real surprise when the note fell out."
She wants to trace the descendants of Ms Govan, who she believes was either a seamstress or garment packer.
She said: "There are many unanswered questions.
"We don't know how many of these poems this lady sent. Was this a one off, or were there many more lost to the battlefield, or even still existing undiscovered?
"If there were more, did anyone ever answer her message and indeed did she ever meet and marry a soldier returning from the war?"
Professor Maria Hayward from the University of Southampton, who specialises in the history of clothing, said: "The condition of the kilt is very striking.
"You do not expect to see a piece that has such clear links to World War One being in such good condition."