Joe Ellis Trust reaches £100,000 target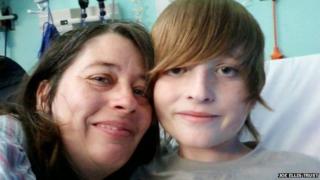 An appeal to fund the cancer treatment of an Isle of Wight teenager, who has since died, has reached its £100,000 target.
Joe Ellis, 13, died in June, a year after he was diagnosed with primary mediastinal large B-cell lymphoma.
His father Simon said he was "absolutely thrilled, amazed and astonished" at the level of support Joe and his trust had received.
The family pledged to use the money to help children affected by the disease.
The Joe Ellis Trust raised £58,000 during his life but was aiming for £100,000.
Schools, community groups and police had all joined in fundraising efforts.
Mr Ellis added: "This journey for us has been a massive roller coaster ride of emotion... we want to ensure that Joe's death was not for nothing and some good will now come from it.
"We can see the amazing love and support that the island people have shown towards Joe and we now wish to continue this in a positive way and help other island children suffering from this terrible disease."