Hilsea Lido restricts entry after anti-social behaviour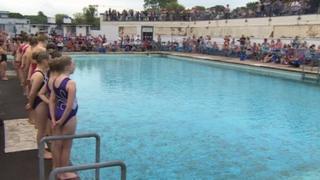 Entry to an outdoor swimming pool has been restricted due to anti-social behaviour, a day after volunteers succeeded in reopening it.
Hilsea Lido in Portsmouth re-opened to the public on Saturday after a seven year restoration effort.
Volunteers running the pool said entry would be restricted to family groups after "a very small minority have created a difficult situation".
Facebook posts by users complained about "vile teenagers" at the lido.
The Hilsea Lido, which dates from the 1930s, closed in 2007 but the local people formed Hilsea Lido Pool for the People as a registered charity to return it to its former glory.
A fundraising campaign was helped by MP Penny Mordaunt who took part in the ITV show Splash.
Sabrina Richards, of the charity, said reopening the 67m long and 4.5m deep pool to the public on Saturday was a "massive step forward".
She said the initial response from swimmers had been "very positive", however the pool was closed two hours early and entry was being restricted to family groups due to the behaviour of "quite a few unaccompanied children and young adults".
A statement posted on Facebook on Sunday said: "Our lifeguard team are a great bunch of people who deserve to be treated with respect, we feel that by encouraging a family friendly space we will all be able to achieve what everybody wants and that is a successful Hilsea Lido.
"We are looking at introducing ID cards and will ensure that bad behaviour is not tolerated. Staff, volunteers and users of Hilsea Lido deserve better."
Users of the pool had complained about "vile teenagers" who were "swearing and spitting" around families and "leaving rubbish everywhere".
Ms Richards said the entry restrictions would be reviewed.
The charity has plans to use admission revenue to improve lighting, surfaces and restore the diving boards as part of its future development.