Thousands unofficially break largest ukulele ensemble record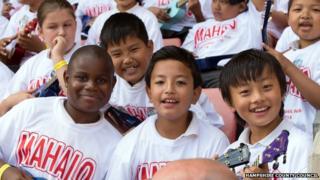 More than 2,300 people have unofficially broken the Guinness World Record for the largest ensemble of ukulele players.
The event at St Mary's Stadium, Southampton has beaten the current world record of 2,134 people.
Guinness is expected to validate the new record in the next six weeks.
The set list included You Are My Sunshine, When the Saints Come Marching In and a number written for the day called The Uke 'n' Sing Song.
The majority of the 2,370 participants were from schools across Hampshire, and were led by children's entertainer Justin Fletcher, also known as Mr Tumble from CBeebies.
Hampshire county councillor Colin Davidovitz also took part, accompanied by Southampton mayor Sue Blatchford.
Mr Davidovitz said: "It was wonderful to be with so many happy children from Hampshire and Southampton schools.
"It seemed that the saints really had come marching in as the stadium resounded to the sound of their enthusiastic singing and dancing as they strummed the afternoon away on their ukuleles."
Organiser Jill Larner, of Hampshire Music Service, said: "This has been a marvellous motivation for learning and will certainly help us to end the school year on a high note."