CPS apologises to Michael Mates over PCC election claims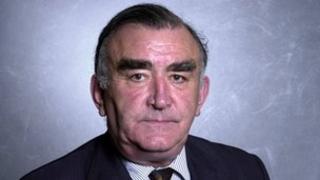 The Crown Prosecution Service (CPS) has apologised to former police and crime commissioner (PCC) candidate Michael Mates after accusing him of breaking election law.
Mr Mates said he had received "substantial damages" from the CPS for comments made after investigating him.
It was claimed he had rented a flat in Winchester while trying to become PCC for Hampshire and the Isle of Wight.
PCC candidates need to live in the areas where they are seeking election.
The CPS confirmed it had apologised but refused to comment on the damages.
Hampshire Constabulary has also apologised to Mr Mates, who was the Conservative MP for East Hampshire from 1974 to 2010 and a minister in the early 1990s.
'Wrong decision'
In October the CPS said in a statement there had been a "realistic prospect" of convicting Mr Mates, 80, but it was not in the public interest to do so.
But following a complaint from Mr Mates, the CPS reviewed its decision and said it had been "wrong to determine there was sufficient evidence for a realistic prospect of conviction".
It said in a statement: "The CPS has apologised to Mr Mates for any distress and embarrassment that its wrong decision and public statement in October caused. The CPS of course accepts that Mr Mates committed no offence."
Hampshire's Chief Constable Andy Marsh said: "If the investigation has caused Mr Mates professional or personal embarrassment or other personal difficulties then this clearly was not the intention of the police and, for that, I apologise.
"Furthermore, I acknowledge and accept the statement of the CPS that Mr Mates is innocent of any offence."
Mr Mates said he had offered to go to court to clear his name.
He said: "What has been a nightmare for my wife and myself for more than 18 months is now over.
"This is not the way our justice system should work. I shall endeavour to ensure that lessons are learned from what has been, for us, a most upsetting experience."