Revised Winchester Silver Hill plans approved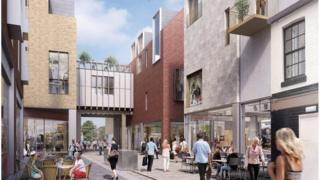 Revised plans for a Winchester development criticised by a councillor for looking like a "blancmange" have been approved by the city's council.
The latest Silver Hill regeneration proposals were debated by Winchester council's cabinet on Thursday.
The city centre redevelopment includes homes, shops and public spaces.
The council has said the scheme would "transform the run down and ugly area of Winchester city centre between the bus station and Friarsgate".
However, Councillor Kim Gottlieb, who has set up a website opposing the plans, said the proposals looked like a "blancmange".
The agreed changes include a reduction in homes, from 287 to 184 and the removal of a proposed bus station.
Retail space will also be increased from 95,000 sq ft (8,830 sq metres) to 148,000 sq ft (13,700 sq m).
A revised planning application incorporating the agreed changes will be considered in October.
Mr Gottlieb, who is also a chartered surveyor, criticised the plans.
He said: "The scheme in front of us is dismal. When I described it as a blancmange, that's me being polite – it's a lot worse than that and the real problem is because it's so large and so central, what happens on this site will define the character of the city for many decades to come."
Councillor Vicki Weston, portfolio holder for built environment, said: "I cannot agree with those who say 'Winchester deserves better'. I say Winchester deserves the best and this is the best for the economy and the people."