Buckskin flood victims still in temporary accommodation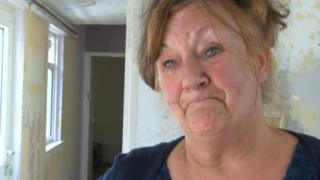 Some residents of a Hampshire housing estate are still unable to return to their homes, five months after they were flooded with polluted groundwater.
More than 80 houses were evacuated in Buckskin, Basingstoke, in February and 77 million litres of water pumped out.
Resident Denise Walker, who spent 97 days in a hotel, said: "It's only just recently I've stopped crying every day."
Sovereign Housing Association described the situation as "challenging".
Mrs Walker and her husband, Mike, are now living in temporary housing. She has described the situation as "horrific".
"All I've done is fight, fight, fight," she said.
"They've told me 10 weeks - we shall see."
Sovereign Housing Association is responsible for about half of the affected homes. The others are owner occupied.
Luke Bingham, of Sovereign, said: "It's not been an easy process because at no point will you have 40 homes free and vacant waiting for people to move into."
Groundwater began to overwhelm the drainage system on 8 February and the area remained flooded for more than a month.
A Thames Water spokesman said: "Record rainfall earlier this year led to groundwater overwhelming our sewer network in Buckskin. After the floodwaters receded we organised a large-scale clean-up of the area and removed huge amounts of silt, deposited by the groundwater, out of our sewer pipes so they could work effectively.
"To try to combat the risk of future sewer flooding we have a team of technical specialists reviewing our pipe network and modelling risk, and we've logged and detailed everything that happened in Buckskin."
The company said it was working with Hampshire County Council - the lead flood authority - and Basingstoke and Dean Borough Council to reduce the chance of further flooding.
Hampshire County Council said it had been investigating the cause of the flooding and would publish its findings in a report later this week.