Portsmouth stabbings: Walkers urged to talk to police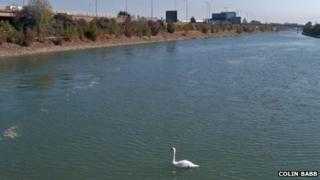 Walkers who may have seen a man who stabbed two women in the chest in separate attacks in Portsmouth are being urged to contact police.
A 45-year-old dog walker was attacked on a wooded footpath along the shore of Ports Creek, Hilsea, on 29 June.
Nine days earlier a 20-year-old was assaulted on Southampton Road, near Ashurst Road, Cosham.
Police want to talk to a number of people seen in the area of the second attack a week ago.
Both women were stabbed with a bladed object, possible a knife, by a man in his late teens to early 20s, police said.
Their injuries were not life-threatening and they have since been discharged from hospital.
Police are linking the unprovoked attacks and said the motives were unknown.
They are looking for several dog walkers, a mountain bike rider, a woman with a pushchair and a young child, and a group having a picnic near to where the second attack took place.
It happened at about 11:20 BST east of the footbridge that crosses from Peronne Road to the Highbury estate.
The man approached the woman from the opposite direction before stabbing her and running off towards Hilsea Lines.
'Alert, not alarmed'
Acting Det Insp Liam Davies said: "It's important to say that these people are purely possible witnesses to events on the footpath that morning. They are not suspects.
"We believe they could be important witnesses to circumstances immediately before and after the assault."
The attacker was wearing a blue hooded top with yellow writing and blue jeans.
Earlier officers were out talking to people in the Ports Creek area of Hilsea a week on from the attack.
In the first attack, on 20 June, the 20-year-old woman had been walking alone at about 22:40 BST when she was approached by a man from behind and assaulted near a bus stop, opposite a block of flats, on Ashurst Road.
Extra police patrols are also being deployed in both areas.
Acting Det Insp Davies added: "Our continued advice to women and the wider community in Portsmouth is to be alert but not alarmed.
"Continue your daily lives and business as you would normally, and report any suspicious behaviour you notice, particularly any sightings of a man matching the description in this appeal."