Southampton arts complex still being built awarded £1.2m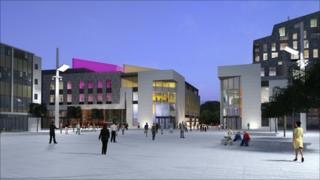 A major city arts complex that is still being built has been awarded £1.2m from the Arts Council.
The complex is part of the new so-called "cultural quarter" being created around the Guildhall Square area of Southampton and is due to open in 2016.
Stephen Barnes-Andrews of Southampton City Council said it would "enable it to further its reputation locally and nationally as a hub for the arts".
The funding is awarded for three years from April 2015 to March 2018.
Phil Gibby, area director at Arts Council England, said: "Southampton City Council's commitment to retaining its involvement in this project was a critical factor in awarding the increase.
"This will support their ambition to bring great art and culture into the heart of the city."
The grant is in addition to £7.2m previously awarded for building costs.