'Lifeline' emergency alarm cord to be turned off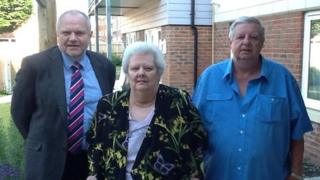 Residents in sheltered housing have spoken of their concern after they were told their emergency alarms would be switched off.
About 30 people living at Alma House in Aldershot, Hampshire, have been told the pull cord systems in their rooms will be switched off in September.
First Wessex, which runs the service, said the county council said it was cutting the grant due to budget cuts.
But Hampshire County Council says a final decision has not yet been made.
'Very concerned'
The cord is used by residents in the event of emergencies, such as falls.
They enable residents to receive help from staff at the home or the emergency services.
Resident Bob Adair said: "As I live on my own own, unless I carry a mobile everywhere I went, even to the toilet, if I was to have a really serious fall or I was unconscious or had a stroke the chances are I could die."
First Wessex runs Alma House, as well as the emergency cord alarm system, and currently receives a grant towards the cost of the service on behalf of residents.
Sheila Cartwright, 70, said: "It will have a big effect on people. They will be frightened and wondering 'what's going to happen to me if I fall, who's going to find me?'. They could be there for days. We are very concerned."
Councillor Liz Fairhurst, executive member for adult social care and public health at the council, said the authority was reviewing services funded via its £25m Supporting People budget and was investing in a system called Telecare.
The council said Telecare would include automatic fall alarms and medication dispensers and was "tailored to an individuals' needs".
The council said Telecare could be provided following a social care assessments if funding is ended for alarm services.