Southampton air pollution monitoring fears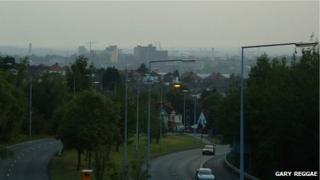 Campaigners are calling for action amid fears that air pollution is not being monitored properly in Southampton.
Two monitoring stations at Redbridge and Bitterne have recently been closed by the city council.
Last month, the city was named as one of nine UK towns and cities by the World Health Organisation breaching air quality guidelines.
Campaigners want to see the Redbridge station reinstated. The city council said air pollution was a high priority.
Redbridge monitoring station was closed in April, and another one in Bitterne closed in January.
Redbridge station continuously monitored various pollutants including particulate matter (PMs) and Nitrogen Dioxide (NO2), which primarily comes from traffic fumes.
There is now only one station in the city, at St Mary's, which measures a range of pollutants and is run by Defra.
'Served its purpose'
Community group Western Docks Consultation Forum has branded the Redbridge monitoring station closure as "ridiculous" and wants to see it reinstated in this "heavily trafficked area".
Southampton City Council said it was closed because it was becoming unreliable and had "served its purpose" in identifying the air quality issues in that area.
It said that monitoring continued at Redbridge using "diffusion tubes", which take average readings for NO2.
The authority said the city had four monitoring stations taking NO2 readings, including at Onslow Road, and about 60 diffusion tubes.
In a statement, it said it was investing in measures to improve air quality rather than "continuing to monitor it to a degree that is unnecessary and inefficient given the data that has already been gathered over the years".
It said it was using extensive data monitoring and modelling information to improve air quality within Southampton - in line with European standards and Defra recommendations.
The council is also commissioning an inquiry into the city's air quality.