PC Steve Rawson inquest returns accidental death verdict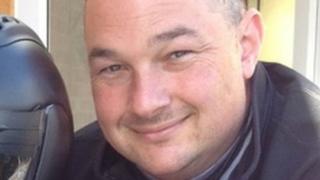 A crash on a Southampton road that killed an undercover policeman was an accident, an inquest jury has found.
PC Steve Rawson, 40, was driving his unmarked motorbike at high speed when it collided with a BMW in Thomas Lewis Way, on 3 April 2013.
He was on duty for Hampshire Constabulary and had been riding the unmarked motorbike in civilian clothes at the time of the crash.
The jury in Southampton returned a verdict of accidental death.
The inquest was told PC Rawson was estimated to be doing more than double the 40mph speed limit at the time of the crash.
The BMW car had been pulling out of the Shell garage when the collision happened.
The driver, who had carried out a banned right turn, suffered injuries to his back and ribs, the inquest heard.
PC Rawson, who was married and had young children, sustained multiple injuries in the collision.
After the verdict, Assistant Chief Constable Chris Shead described his former officer as "outstanding".
"This was a complete tragedy for his wife Kerry, Steve's family and all of his colleagues," he said.
"His loss has been deeply felt throughout the force."