PC Steve Rawson inquest: Accident in same location months before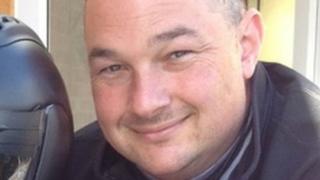 Three months before a crash that killed an undercover policeman another accident happened at the same location, an inquest heard.
PC Steve Rawson, 40, was driving his unmarked motorbike when he died in a collision with a BMW in Thomas Lewis Way, Southampton, on 3 April 2013.
The BMW driver had carried out a banned right turn, the inquest heard.
Southampton City Council's John Harvey, said there had already been a "slight accident" in the same place.
The inquest heard there was no sign telling drivers not to turn right at the time of the crash and that one was installed only 13 months after.
Highway manager Mr Harvey said the road layout has meant it was not considered necessary to have a sign but add that the city council installed one because "it seemed the right thing to do."
The inquest was told PC Rawson was estimated to be doing more than double the 40mph speed limit at the time of the crash.
The inquest continues.