MP Mike Hancock's son sentenced for photographer attack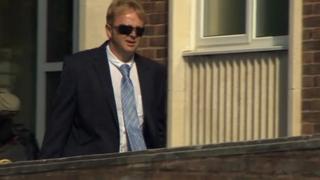 The son of MP Mike Hancock has been ordered to carry out community service and pay compensation after headbutting and punching a press photographer.
Dean Hancock, 37 was convicted earlier this month of assault causing actual bodily harm to Steve Reigate, of the Daily Express.
He was also found guilty at Portsmouth Magistrates' Court of breaking Mr Reigate's photographic lens.
The attack happened on 23 January outside the MP's family home.
The defendant had expressed regret at his "loss of control" and accepted he was the more aggressive party when he attacked Mr Reigate with "tremendous force", the court was told.
Passing sentence, District Judge Anne Arnold described the attack as a "red-mist situation".
Hancock was ordered to carry out 200 hours community service and pay £2,951 in compensation and court costs.
Kate Watts, for the defence, said her client had found work as a welder with his brother in Sheffield following his conviction and that he had accepted he was the more aggressive party.
She said: "He has always accepted that he should not have done what he did.
"Even recently, the press are still there at his house and he handles them very well. This is a moment I do not feel he will ever repeat again."
During the trial, the court was told the fracas occurred while journalists and photographers were waiting outside hoping to talk to the defendant's father.
The MP for Portsmouth South was making headlines at the time being sued in the High Court by a "vulnerable" female constituent who alleged that he sexually assaulted her.
The 68-year-old, who has since settled the court action, had just been suspended from the Liberal Democrat Party.