PC Steve Rawson inquest: Driver made 'prohibited' turn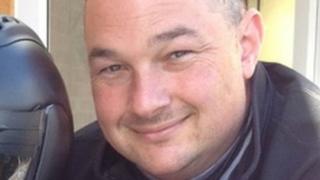 A motorist involved in a fatal collision with an undercover policeman undertook a "prohibited manoeuvre" before the crash, an inquest heard.
PC Steve Rawson, 40, died in a collision with a BMW on Thomas Lewis Way, Southampton, on 3 April 2013.
The inquest heard BMW driver Michal Pliszczynski carried out a right turn, which was banned by a traffic order, out of a Shell garage.
However, there was no sign showing the manoeuvre was prohibited.
Giving evidence, Sgt Simon Brooks, who investigated the collision, admitted he had also been under the false impression turning right was legal at the time of the crash.
Speed 'foremost factor'
He said there had been a "convergence of factors" which led to the collision, including the fact Mr Rawson, who was on duty at the time, had been riding a black motorcycle dressed in black.
But Sgt Brooks concluded it was the speed at which PC Rawson had been riding his motorbike that was the "foremost factor" in the collision.
Forensic scientist Peter Jennings estimated that speed to be 90mph – more than double the 40mph speed limit of the road.
Sgt Brooks said: "This collision has occurred because of a convergence of factors, the manoeuvre being undertaken, the road, and the lack of conspicuity of the rider.
"But the foremost factor must be the approach speed of the motorcycle."
A police reconstruction of the incident also showed Mr Pliszczynski's view of oncoming traffic would have been obstructed because he was turning right.
Sgt Brooks added: "What is certain is he (Pliszczynski) failed to appreciate either the presence or speed of PC Lawson."
The inquest continues.