Waterlooville lollipop death case dropped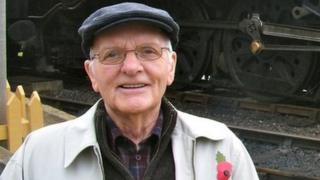 The case against a driver accused of causing the death of a lollipop man by careless driving has been dropped.
Lauren Paul, 24, from Waterlooville, Hampshire, had faced the prospect of a third trial after two juries failed to reach a verdict.
But the Crown Prosecution Service (CPS) has decided not to pursue the case.
Raymond Elsmore, 82, was killed as he helped a pedestrian cross Tempest Avenue, Waterlooville, in 2012. Miss Paul said she was blinded by the sun.
Giving evidence in her second trial, Miss Paul, of Holly Drive, Waterlooville, said the first she was aware of Mr Elsmore was when he hit her windscreen on the afternoon of 12 December 2012.
Family disappointed
In a statement to police, Miss Paul said she was driving straight into the sun so she slowed down to what she believed was about 25mph (40km/h).
She put the sun visor down and took steps to adjust her driving position but failed to see Mr Elsmore.
Two juries failed to reach a verdict and the CPS did not offer any evidence, effectively ending the case, at a hearing at Portsmouth Crown Court earlier.
In a statement, Mr Elsmore's family said they were disappointed with the decision.
"We strongly disagree with this outcome. We are absolutely convinced that had Lauren Paul been driving with due care and attention... Ray would still be with us," they added.
Sgt Darren Ord, from Hampshire Constabulary, said there were "no winners".
He added: "This tragic case is a harsh reminder to us all to take extra care when driving in winter conditions."
Mr Elsmore had worked at Queen's Inclosure Primary School in Waterlooville for about 10 years.