BAE Systems awarded £70m contract for Portsmouth Naval Base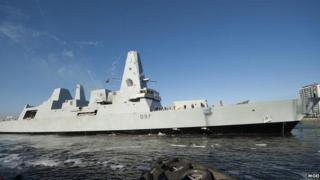 BAE Systems has been awarded a £70m contract for the maintenance of Royal Navy Ships at Portsmouth Naval Base.
The Ministry of Defence contract will protect 100 engineering roles at BAE Systems in Portsmouth and will run from July until November 2016.
It involves managing the support, maintenance and upgrade of Type 45 Destroyers at the base and on operations in the UK and globally.
BAE Systems currently services the Royal Navy's four River Class Vessels.
Minister for Defence Equipment, Support and Technology Philip Dunne MP said: "This £70m contract is good news for Portsmouth. It will protect the skills of around 100 expert engineers and makes clear that the future of the city's ship support industry is bright.
"Our Type 45 destroyers are the largest and most powerful ships the Navy has ever had, featuring state of the art equipment and weapons systems. It is essential that the ships receive top class support and Portsmouth has the skills needed to do this.
"This is another demonstration of the Royal Navy's commitment to the shipyard, which will continue to play an important role in the city's future."
BAE Systems services all Type 23 ships based at Portsmouth in addition to managing HM Portsmouth Naval Base for the Royal Navy.
The six Daring class Type 45 ships – HMS Daring, HMS Dauntless, HMS Diamond, HMS Dragon, HMS Defender and HMS Duncan – are the largest and most powerful Air Defence Destroyers ever operated by the Royal Navy.
More than 900 jobs are to be lost at the BAE Systems yard after the company decided to end its shipbuilding there.