Hampshire drugs crackdown leads to seven arrests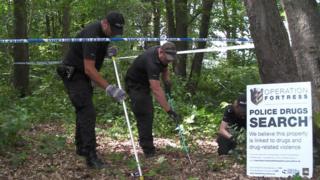 Seven people have been arrested in a drugs crackdown operation in Hampshire.
A team of police cordoned off an area of woodland on Netley Common, near Thornhill, Southampton for "drugs evidence searches".
Four men and three women aged between 17 and 50 were arrested during four warrants carried out in Thornhill, Botley and Portsmouth.
A Hampshire Constabulary spokesman said the search would be completed and cordons lifted by Saturday evening.
He could not say if the site has been used as a spot to take drugs, or whether drugs are believed to be hidden there.
The arrests were made under Operation Fortress, launched by the force in 2012 to reduce the harm caused by illegal drugs and substance misuse.