Hunt for photo of WW1 military nurse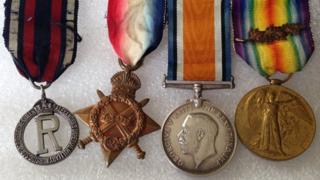 A hunt is under way to find anyone with information or photographs of a World War One nurse who received a mention in dispatches, signed by Churchill.
Nursing Sister Matilda Sutton served on hospital barges off the coast of France treating men from the battlefields.
Her medals and other personal items are at Fort Brockhurst in Gosport and researchers are desperate to know more to help celebrate her life.
English Heritage said there were few sets of nurses medals still around.
English Heritage curator Pam Braddock said: "She joined the service when she was 42, having trained in London and worked at Great Ormond Street and various hospitals around the country and she was in France throughout the First World War, right up until April 1919.
"What's really special about Sister Sutton is that she was one of those rare nurses who was actually mentioned in dispatches, who was recognised with medals.
"There are plenty of First World War medals around but there are very, very few sets awarded to nursing sisters."
Among the medals is one for Queen Alexandra's Imperial Military Nursing Service. There is also a military nursing badge and two war medals.
Ms Braddock said records showed Sister Sutton had served in a number of locations in France, including hospital barges where men from the trenches were brought, badly wounded, dirty, lice-ridden and possibly gassed.
An original document, signed by Winston Churchill, commended her for her "gallant and distinguished services in the field".
English Heritage is planning an exhibition at the fort in 2018 to mark the centenary of the end of World War One and researchers are searching for a photograph of Sister Sutton so they can create a display about her life and achievements.