Police officer Steve Rawson rode 'at speed' before fatal crash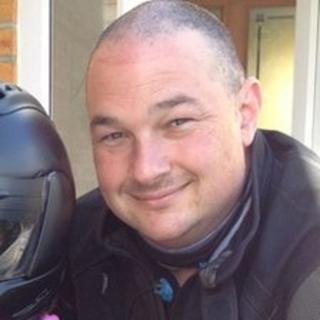 An undercover policeman who died when his motorbike was in a crash with a car was travelling "at speed" before the impact, an inquest heard.
Steve Rawson, 40, died in the collision with a silver BMW in Thomas Lewis Way, Southampton, on 3 April 2013.
The inquest heard the car had been pulling out of the Shell garage when the crash happened.
Colleagues of Mr Rawson quickly arrived at the scene but he died soon after.
The driver of the BMW suffered injuries to his back and ribs and is due to give evidence at the inquest, which is expected to last up to nine days.
Mr Rawson was on duty for Hampshire Police and had been riding an unmarked motorbike and was dressed in civilian clothes at the time of the crash.
His bike struck the side of the BMW as it turned right out of the petrol station.
Officers who had been working with him quickly arrived and gave first aid, but he died in hospital shortly afterwards.
Mr Rawson was married and had young children.