Bullington Cross wind turbine plan rejected at joint meeting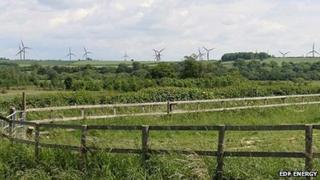 A project to build one of the south of England's biggest wind farms has been turned down.
The Bullington Cross wind farm scheme was rejected in a joint meeting of three Hampshire councils.
The proposed project had previously been branded "totally inappropriate" during a debate in the Commons.
EDF Energy wanted to put up 14 turbines to generate electricity for up to 14,900 homes, but the scheme was opposed by the Ministry of Defence.
The firm said: "We are naturally disappointed at the decisions taken by the councils involved.
"We firmly believe the Bullington Cross site is an excellent location for a wind farm and one that has potential to generate significant benefits to both the local community and economy."
Considering options
Following the meeting, Winchester Conservative MP Steve Brine said: "We now wait to see if the applicant digs deep and submits an appeal, which they are entitled to do."
Previously, Defence Minister Andrew Murrison said the farm could interfere with radars and low-flying operations.
But EDF said: "The scheme has attracted high levels of support and encouragement from the local community and in particular, from the Hampshire Renewable Energy Cooperative.
"Thousands of letters of local support have been registered with the councils that recognised the importance and merits of the proposal.
"As a country we continue to face a significant challenge to maintain energy supply' tackle climate change and maintain affordable energy prices; the proposed scheme would make a positive contribution to all of these issues.
"We will now carefully review the grounds for this decision and consider our options going forward."