Bee Hawk moth spotted by expert on Isle Of Wight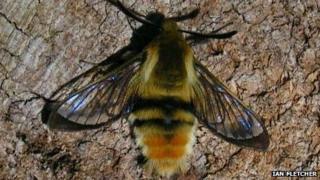 A rare species of moth has been spotted on the Isle of Wight for the first time in 62 years.
The Narrow-bordered Bee Hawk moth was last recorded on the island by entomologist KG Blair in 1952.
Moth experts Ian and Cath Fletcher spotted the moth on a grass stalk during their weekly patrol of a wildlife reserve in Cranmore.
Mr Fletcher said "all hell broke loose" in the moth surveyor community when he posted the photo on his Facebook page.
He said he has received many requests from people wanting to come and take a look at the moth, which flies during the day and "hovers like a humming bird".
He put the rarity of the moth down to "habitat loss" and the fact it is "predated by the bee mite".
The sighting, which was reported by www.onthewight.com, indicates the likelihood of a small colony of Bee Hawk Moths at the reserve.
Jamie Marsh, of the Hampshire and Isle of Wight Wildlife Trust, said it was "great" to see "new species utilising restored habitats".
The moth, which appears in May and June, is rare across the country and is a priority species under the UK Biodiversity Action Plan.