Son of MP Mike Hancock convicted for photographer attack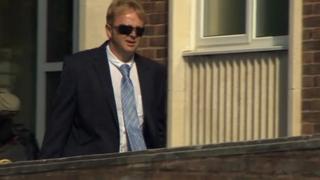 The son of MP Mike Hancock has been found guilty of headbutting and punching a press photographer.
Dean Hancock was convicted of assault causing actual bodily harm in connection with the attack involving Steve Reigate, of the Daily Express.
The 37-year-old was also found guilty at Portsmouth Magistrates' Court of breaking a photographic lens belonging to Mr Reigate worth £2,300.
The attack happened on 23 January outside the MP's family home.
District Judge Anne Arnold said that she did not find Hancock a "credible witness".
She added: "I find that the defendant throughout the events, as demonstrated by the footage I have seen, was the aggressor and assaulted Mr Reigate first by headbutting him and caused the injuries which I have seen the photos and heard evidence about."
The judges said Hancock, who was released on unconditional bail until sentencing, would be likely to receive a community punishment.
'Tremendous force'
Vivian Ducie, prosecuting, said Mr Reigate and a couple of journalists gathered outside the Hancock family home in Rockingham Way, Portchester, Fareham, to gain a comment and images of the MP.
The defendant's father was being sued in the High Court by a "vulnerable" female constituent who alleged the MP for Portsmouth South sexually assaulted her.
Mr Reigate said that he walked about 30 yards down the road in order to take a photograph of Mrs Hancock, after which the defendant approached him and attacked him.
He said Mr Hancock headbutted him in the face and then proceeded to punch him "five or six times around the head with some force".
Mr Ducie said: "You can see the ferocity which Mr Hancock is attacking Steve Reigate because both his feet are off the ground.
"The prosecution contention is he must have been using some tremendous force."
Mr Reigate told the court that he had not expected trouble when he went to the Hancock house as he had been there previously without problem.
Footage of the incident filmed by freelance cameraman Paul Wellings for ITN was shown to the court.
Sentencing was adjourned until 25 June.