Queen's Birthday Honours: Hawk-Eye inventor made OBE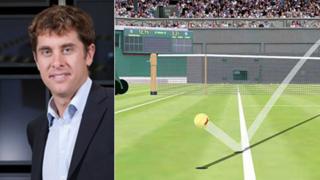 The inventor of the Hawk-Eye technology used in sport has been appointed an OBE in the Queen's Birthday Honours list.
Dr Paul Hawkins, from Shawford, Hampshire, founded the company after leaving university.
The camera system, which is used in contentious incidents and for TV analysis, was first used in cricket before spreading to other sports.
Others honoured in Hampshire include Eastleigh gardener and broadcaster Roy Lancaster who is made a CBE.
Dr Hawkins, who is based at the firm's office in Basingstoke, has seen his invention go on to be used at Wimbledon and more recently as part of goal-line technology in the Premier League.
A goal scored by Manchester City's Edin Dzeko in January was the first to be shown to have crossed the line using the system.
Dr Hawkins said: "When I got the letter... it was a very proud moment.
"I started in 1999 pretty much out of university - I was young and entrepreneurial and took a risk to follow my passion which is sport and technology."
He admitted the technology was not always welcomed within the sporting world.
He added: "Is there anything in sport everyone is agreed on?
"Hopefully we let our technology do the talking and hope people will be won round.
"[At Wimbledon] we do four courts and if someone is playing on an outside court they say it's like taking a step back in time."
Across Hampshire other honours include a knighthood for Dr Michael Dixon, director of the Natural History Museum, for services to museums.
Edward Leask, from Southsea, is made an OBE for services to sailing for young people and philanthropy.
While boxing coach and promoter Jack Bishop, from Fareham, is awarded a British Empire Medal for services to the sport.