Memorial service for missing sailor Timmy MacColl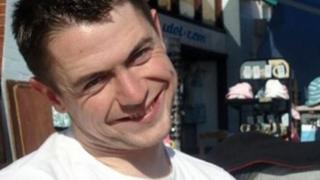 A memorial service has been held for a Gosport sailor who went missing on a port visit to Dubai in 2012.
Leading Seaman Timmy MacColl, 28, originally from Killin in Stirlingshire, disappeared in May 2012 on the visit from HMS Westminster.
He was declared dead by the Royal Navy at the beginning of the month but his body has never been found.
Jim Cunningham, the grandfather of Mr MacColl's wife Rachael, insists the family will not "give up hope".
It is believed the sailor was last seen at the Rock Bottom Cafe in Dubai at 02:00 local time on 27 May 2012.
It is thought crew mates put the father of two in a taxi from a hotel bar after a night out
The service at St Mary the Virgin Church in Rowner Lane, Gosport was led by Canon John Draper.
It was attended by family, friends and naval personnel.
An interment at Hasler Naval Cemetery followed.
A spokeswoman for the Royal Navy said its "sympathies are with Mrs MacColl" and added it would continue to support her.