Calshot and Hamble airfields receive memorials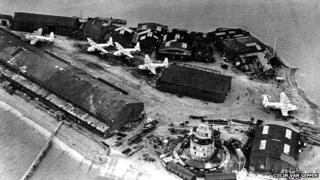 Monuments are being unveiled at two of Hampshire's wartime airfields.
The Airfields of Britain Conservation Trust (ABCT) has erected the memorials at Calshot and Hamble for the role they played in military campaigns.
RAF Calshot is now home to Calshot Activities Centre, while much of Hamble has been developed into housing.
But Kenneth Bannerman, head of the ABCT, said the memorials would "ensure present and future generations will never forget the sacrifice of war".
Calshot opened in 1913 and was used to test early torpedoes, with pilots later undergoing training to attack German submarines during World War One.
In World War Two, it was involved both in the evacuation of Dunkirk, where 500 soldiers were saved, and the D-Day invasion. It maintained flying boats during and after the war, before closing in 1961.
Hamble opened in 1926 as a training centre. Thousands of Spitfires were serviced there during World War Two, delivered to the base by female pilots.
It specialised in training airline pilots after the war and eventually closed in the mid-1980s.
An ABCT spokesman said: "Were it not for the still mostly untouched grass landing area, Hamble's second airfield would be little recognisable today."
The unveiling at Calshot took place at 10:30 BST, with Hamble's following at 11:00 on Saturday.