Conservatives chosen to run Portsmouth City Council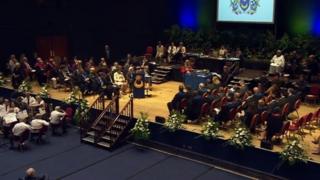 The Conservatives have taken control of Portsmouth City Council with the support of Labour and UKIP.
It follows the resignation of Liberal Democrat leader Gerald Vernon-Jackson after his party failed to win control in the local elections on 22 May.
The authority was left in no overall control, even though the Lib Dems are still the largest party.
At the council's annual meeting earlier, councillors voted for a new Tory administration.
Conservative group leader councillor Donna Jones is now leader, with party colleague councillor Luke Stubbs as her deputy.
The party has 12 out of 42 seats, the Lib Dems have 19, UKIP six and Labour four. There is also one non-aligned Liberal Democrat.
The recent local elections also saw Portsmouth South MP Mike Hancock lose his Lib Dem seat on the council to UKIP's Julie Swan.
In a traditional ceremony at the city's guildhall, councillors also elected a new lord mayor, Lib Dem councillor Steven Wylie, and a new deputy lord mayor, Labour councillor David Horne.
Ms Jones said: "I'm going to be meeting with head teachers to talk about improving governor services and empowering governors to make sure that school standards go up.
"I'm going to be changing the local housing list criteria so that only people that are from Portsmouth, or who have lived here for five years or more, will be able to enter and go on to the housing waiting list.
"I'm going to be looking at contracts and reviewing contracts to try and save money so that I don't have to put up council tax this time next year.
"So, big job, lots to be done, but in 12 months' time people will be able to judge me by my record and it will be one of success."