Warning over 24 series Southampton Docks filming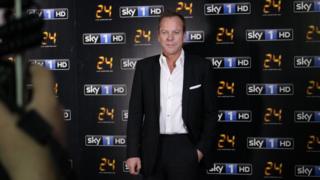 Residents living near the Port of Southampton have been warned not to be "unnecessarily concerned" by the sound of gun fire and explosions, as a new series of 24 is filmed at the site.
Associated British Ports (ABP) Southampton said Fox broadcasting company had sent letters to residents.
DP World Southampton (DPWS) which runs the container terminal said filming was scheduled until Thursday.
It added extra security was in place to prevent plot leaks.
24: Live Another Day, which sees 47-year-old Kiefer Sutherland play former CTU agent Jack Bauer for the ninth series of the hit US programme, is based in London.
The series has also seen Stephen Fry play the British Prime Minister.
DPWS said: "Residents in the area were sent a letter from Fox informing them what to expect, to prevent unnecessary concern."
In a joint statement with ABP Southampton, it said: "Unsurprisingly, there has been a lot of interest from members of the public and fans of the show, interested in coming to the terminal to witness the filming."
However, it added the port was "a secure and private estate" with no access to the general public.
"In accordance with the port harbour authority, an exclusion zone operates around all ships that berth at the port including ships at the container terminal," it said.
It added patrols were in place to monitor the exclusion zone.
Fox was unavailable for comment.