Portsmouth's D-Day museum set for Heritage Lottery Fund £4.1m grant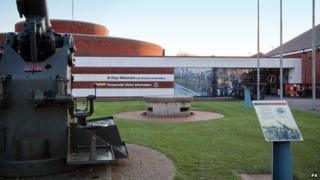 A museum dedicated to telling the story of the Normandy landings is set to receive a £4.1m grant from the Heritage Lottery Fund (HLF).
Portsmouth's D-Day Museum is currently marking the 70th anniversary of the invasion which was a turning point for the Allies during World War Two.
The money will be used to "renew" it in time for the 75th anniversary in 2019.
The museum opened in 1984 and houses the Overlord Embroidery, an 83-metre-long textile tribute to the veterans.
Carole Souter, chief executive of HLF, called the landings a "monumental moment in European history".
Plans include new displays using the words of veterans to bring the story to life, and a new activity space for work with schools.
The museum must now raise £160,000 towards the development costs.