Amputees retrace WW2 Cockleshell Heroes journey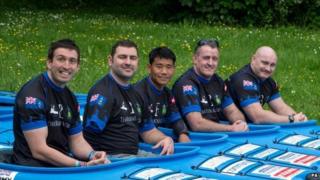 Nine amputee servicemen are to retrace the journey made during one of the most famous missions of World War Two.
The Cockleshell Heroes were 10 Royal Marine canoeists whose task was to attach mines to enemy supply ships in Bordeaux. Only two survived.
The servicemen, joined by the great niece of one of the original team, left Portsmouth on Friday for France where they will re-enact Operation Frankton.
The trip was organised by Hampshire charity Pilgrim Bandits.
Team member Andy Reid, a former corporal in the 3rd Battalion Yorkshire Regiment, lost both legs and his right arm in Afghanistan in 2009.
'Huge test'
He said: "It's a big change when you are out of the forces and for me it will be good to have a bit of banter again, have a laugh with the lads like I used to."
Sarah Holmes, the great niece of Corporal George Sheard, who died in the raid, will be dropping pebbles bearing the names of the original Operation Frankton team along the route.
The 46-year-old, who is honorary secretary of the Frankton Families association, said: "Being able to honour my very brave uncle, all his brave colleagues and all those that fought in all conflicts is a huge privilege.
"This will be a huge test for me physically too - I've been training but the Gironde River is a fast flowing tidal river, rough and challenging.
"My uncle's body was never recovered so by releasing these memorial pebbles at each of the points where the original crew members are thought to have been lost will be a tribute of remembrance and pride on behalf of all the Frankton Families.
"But without the sacrifice of so many maybe our lives today would not have been possible."