Rodents blamed for causing Hampshire farmhouse fire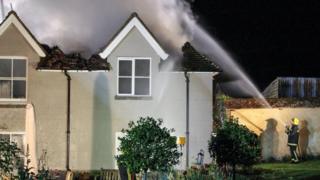 Firefighters have blamed rodents for causing a blaze that severely damaged a farmhouse in Hampshire.
An investigation into the cause of a fire at a Cheriton home concluded it was probably caused by rats or mice chewing off PVC insulation from electrical cabling.
The fire badly damaged the roof and top floor of the home in North Lane.
The home's owner and his family were in the property at the time the fire started but were unhurt.
Station Manager Mark Budden said: "The first crew on the scene put in place a really good plan, which ultimately saved much of the roof and top floor of the building."