Waterlooville lollipop man death: Accused was 'driving into sun'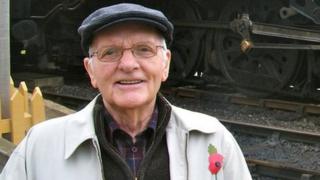 A driver accused of causing the death of a 82-year-old lollipop man in Hampshire was driving into the sun, a court has heard.
Raymond Elsmore was knocked down as he was helping a pedestrian cross Tempest Avenue, Waterlooville, in December 2012.
Lauren Paul, 23, denies causing death by careless driving.
A jury at Southampton Crown Court heard Miss Paul had not seen Mr Elsmore because of the sun.
Giving evidence, witness Toni Ponting explained how she had been to collect her son from school when Mr Elsmore stepped into the road to help her cross.
Ms Ponting, who was heavily pregnant at the time, recalled: "I could see behind him, see the cars coming. I thought the car would stop but it didn't.
"He's hit by the car. He hits the windscreen and the car brakes and he's pushed back down onto the road."
Ms Ponting added: "I asked her why couldn't she see him, something like that. She said 'I couldn't see'."
In a statement to police, Miss Paul said she was driving straight into the sun so she slowed down to what she believed was about 25 mph (40kph).
She put the sun visor down and took steps to adjust her driving position.
Mr Elsmore had worked at Queen's Inclosure Primary School in Waterlooville for about 10 years.
The trial continues.