Teenagers rescued from River Medina wreck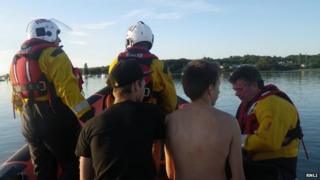 Two teenagers have been rescued from a river on the Isle of Wight after being cut off by the tide.
The 16-year-old boys had put planks across the mud in the River Medina to reach a wreck off the west bank, near Cowes, but became stranded.
A passer-by raised the alarm shortly before 20:00 BST on Saturday.
The lifeboat took the boys to Folly pontoon on the east bank of the river where they were met by coastguards who took them home.