Retiring Hampshire vicar Paul Ginever beats cancer three times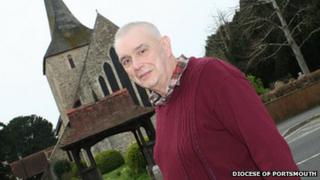 A vicar who survived three bouts of cancer, including one tumour said to have been the size of a melon, is retiring from his Hampshire parish.
Family, friends and church-goers bid farewell to Paul Ginever, vicar of St Mary's Church in Hayling Island, at two services earlier.
The 65-year-old, a clergyman for 42 years, has had chest tumours, stomach cancer and bowel cancer in 18 years.
Mr Ginever said he would not be here without God and modern medicine.
The grandfather-of-four and father-of-six said: "It has given me a natural understanding of how people feel when they are suffering.
"When parishioners have a similar diagnosis, I have an empathy that goes deeper than words.
"I also have an understanding of what acute hospital wards are like.
"I'm sure God has kept me alive for a reason, and I'm grateful for the opportunity to serve him in a new way."
Mr Ginever, who has been vicar at St Mary's Church for 15 years, added: "It's a cliché, but you do realise what matters in life - not what you've got, but the people around you."