A303 horse death crash driver fined and banned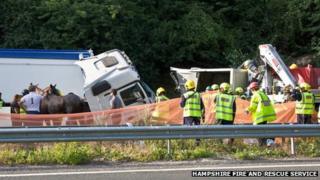 An HGV driver has been fined and banned from the roads following a crash in Hampshire in which three horses died.
The collision happened on 23 July last year on the A303 at Thruxton when the lorry crashed into another vehicle carrying 10 horses.
David Cordey, 60, from Shelley Way, Warminster, Wiltshire appeared before magistrates in Aldershot and admitted driving without due care and attention.
He was fined £380 and disqualified from driving for 56 days.
The trailer, carrying the horses, overturned on the eastbound carriageway of the A303 near Thruxton after being hit by the lorry.
Fire crews cut away the back door of the vehicle to allow three animal rescue specialists and vets to sedate the horses before freeing them.
One horse was killed in the crash. A further two had to be put down.
Hampshire Fire and Rescue described it as "one of the most difficult and challenging animal rescues" it had dealt with.
The two men driving the vehicles were not seriously injured.