Tadley homes evacuated after radioactive canister found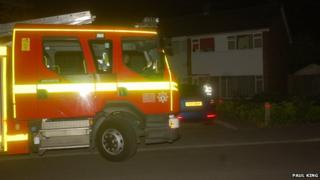 Homes in Hampshire were evacuated after a canister containing radioactive material was found in a garden.
Hampshire Fire and Rescue was called to Giles Road in Tadley just after 20:30 BST on Sunday after the homeowner discovered the labelled can in a shed.
Experts from Atomic Weapons Establishment at Aldermaston attended the scene and 16 homes were evacuated.
It was established the contents of the canister were radioactive, but very low-level and harmless.
Residents were allowed back to their homes shortly afterwards.
Hampshire Fire and Rescue said it sent five crews to the incident.