Newsquest fined over printing press injury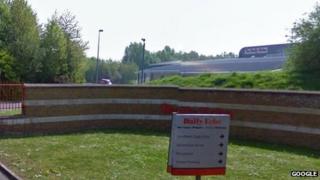 A newspaper group has been fined £3,000 after a worker crushed fingers at a printing press.
The incident took place at Newsquest's plant in Test Lane, Redbridge, Hampshire, in February 2013.
The Health and Safety Executive brought the prosecution for safety failings at Southampton Magistrates' Court.
The company was also ordered to pay £1,560 in costs after admitting a breach of the Provision and Use of Work Equipment Regulations 1998.
The factory is where the Southern Daily Echo and the Southampton News Extra Series are printed.
'Dangerous parts'
The 49-year-old employee crushed his thumb and middle finger in a rotating printer roller as he attempted to remove a piece of torn paper.
The court heard paper getting lodged around ink rollers was a recurring problem at the site.
A spokesman for the watchdog said: "He had cleared most of the paper off and then put the machine into an 8,000 rotations per hour cycle.
"However, he noticed a bit of paper still on the roller and tried to brush it off with a piece of cloth. As he did, the cloth was dragged into the nip of the ink roller, injuring his right hand."
Sections of the machine had been removed and it was "regular practice" at the factory to access "dangerous moving parts," he added.
Guy Widdowson, inspector at the regulator, called it an "easily preventable incident".
He said: "If Newsquest had ensured its employees ran the press with the machine rollers not exposed, there would have been no injury."
Newsquest has been asked for comment.
The injured man has since recovered and returned to work.